The list of UK-QSAR organising committee members is given below. As can be seen they are drawn from both Industrial and Academic organisations and reflect the great depth of pharmaceutical research in the UK.
Andrew Leach  Liverpool John Moores University
John Delaney, Syngenta
Susan Boyd, CompChem Solutions Ltd (Newsletters)
Chris Luscombe, GlaxoSmithKline (Webpage)
Siew Kuen Yeap, Charles River Laboratories
Mike Bodkin, Evotec
Peter Hunt, Optibrium (Secretary)
Val Gillet, University of Sheffield
Nicolas Bosc, European Bioinformatics Institute
Nora Aptula, Unilever
Steve Maginn Chemical Computing Group
David Buttar AstraZeneca
Nathan Brown, BenevolentAI (Chair)
David Evans, Eli Lilly & Co.
Michelle Southey, Evotec
Steve St Gallay, Sygnature Discovery
David Clark, Charles River Laboratories
Marcel Verdonk, Astex Pharmaceuticals
Graeme Robb, AstraZeneca
David Marcus, GlaxoSmithKline
The committee would like to offer sincere thanks to CDD for kindly offering their Cambridge facilities for our face-to-face meeting in November 2017 and 2018.
CDD offer web-based, flexible informatics solutions for compound activity & registration, data visualisation, compound inventory & an ELN, in a system which is ideal for cross-site collaboration.
Committee November 2018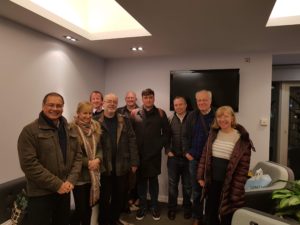 Committee November 2016
Committee November 2014
Click on image to expand
Committee December 2013
Click on image to expand